People are crazy about iPhone games and other such applications. iPhone introduces many amazing and interesting applications every year. Apple iPhone is becoming very famous among youngsters of America because of its interesting games and other iPhone applications.
Best Ten Games of iPhone
There are many games that are introduced by iPhone every year. Out of these games, following are the best ten iPhone games for the iPhone users.
1. Flight Control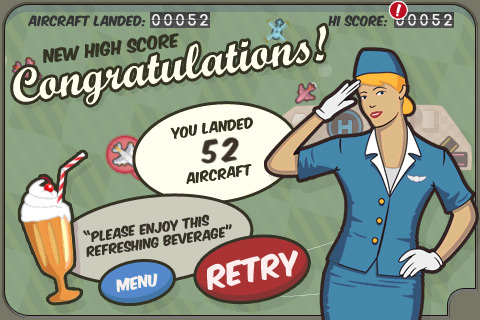 It is an action game, introduced by iPhone. This game is loved by many youngsters and adventurous people. In this game you have to just touch your planes and control them according to the situation. This game has very good and energetic sound effects and also it is available with very good graphics.
2. Peggle
alt="Peggle" width="290" height="290" />
It is puzzle video game with better graphics and sound effects.  This game manufactured by Sukhbir Sidhu and Brain Rothstain. This game has 55 levels with different difficulty stages. There are also some magic powers in the game to help the player and to make the game easy.
3. Rolando 2
This game is specially developed for iPhones and iPods. In this game, there is puzzle, action and adventure. This game is getting very famous in youth and children. In this game a player has to travel through different places like volcanoes, jungles and other ancient places.
4. Pocket God
This game is prepared by Bolt Creative for iPhones and iPods. The design of this game is by Allan Dye and it is sponsored by Dev Castelnuovo. In this game you have to find different ways to islands and jungles. The player has to protect his team from volcanoes and other hazards. This game is available with very good sound effects.
5. Enigmo 2
This is the best game by iPhone. It is puzzle game with excellent graphics and 3D effects. In this game the player has to build mechanism to direct lasers, water and plasma. This game is the second part of original Enigmo with more modifications and new effects.
6. Real Racing
This is a racing game and it is loved by those people who love racing. This game provides a player, five different game modes and races.
A player can also share this game with his friends and can play this game on multi player mode with his friends. There are different challenges and time zones in the game.
7. Zenonia
It is an action game. This game is developed and designed by Gamevil. This game is controlled by d-pad that is available on your screen. This is with very good sound effects and 3D graphics.
8. Sims 3
It is a creative game with a lot of challenges. The player has to develop a town in the game with the help of thousands of Sims. There is an option to change the appearance of Sims. You have to explore new locations and then develop them according to your creativity.
9. Rock Band
This is a video game with very good sound effects. Rock Band game is developed by Harmonix Music System. This game also provide multi player mode, so that you and your friend can play and make different music. Players can use guitars, drums, harmonium, flute, and such other instruments.
10. Super Monkey Balls 2
alt="Super Monkey Balls 2" width="290" height="290" />
This game is the modified version of Super Monkey Balls. This game is loved by many children. There are different levels in the game and all levels are available with different difficulty modes. Each level has some platforms with some hurdle on them.
People who liked this Post also read